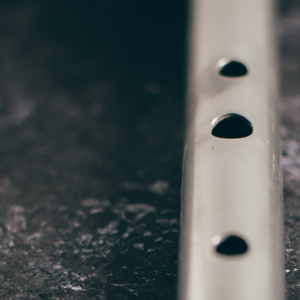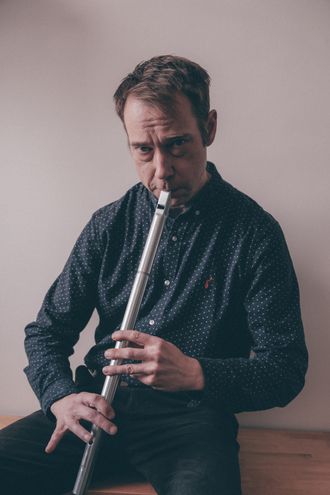 Fraser Fifield, born 1976, is a multi-instrumentalist and composer from Scotland, performing on low whistle, saxophone, and bagpipes.  His distinctive instrumental voice has many sources; Scottish folk is obviously present but also Jazz, Indian, Balkan and more.  He is currently Traditional Artist in Residence at University of Edinburgh.
Fraser has made 9 solo albums since 2001. Some place his wind instruments alongside international virtuosi as Sabir Khan on sarangi (In Mumbai, 2020), bandoneonist, Walther Castro (In Buenos Aires, 2015) or Nedyalko Nedyalkov on kaval (Traces of Thrace, 2008). Scottish guitarist, Graeme Stephen, is a long-term musical collaborator (Esotero / Slow Stream / Stereocanto / Honest Water.  
Fifield's 2021 album release, Piobaireachd / Pipe Music, (2021) re-imagined that ancient Scottish piping style - juxtaposing old pieces with innovative new compositions, winning praise from aficionados and general music press alike.  
'Secret Path', released in June 2023, is the latest collection of Fifield originals, this time performed by a trio of whistle, wurlizter piano and drums, played by Paul Harrison and Tom Bancroft.  
Since the mid-1990's Fraser has worked with many artists in the Scottish folk scene and beyond, including, Old Blind Dogs, Salsa Celtica, Capercaillie, Karen Matheson, Zakir Hussein, Afro-Celt Sound-System, Balkanopolis (Srb), Nordanians (Nl). In 2014 his low whistle featured on Montenegro's Eurovision entry song, followed in 2015 with an award from Hands Up for Trad for Innovation in Scottish Traditional Music.  Celtic Connections Festival 2020 commissioned, 'Secret Histories', performed in its opening concert, by the 70-strong Grit Orchestra. 
"

The entire album is a beautifully considered and masterfully performed listen "
"

Personal enough to satisfy the most questing soul " - Living Tradition
"

To call a musician's work 'unique' is a bold statement. However, if any musicians come close, then Fraser Fifield would be among them. The originality of his work, the breadth of his inspiration, scope of invention and variety of instruments he uses to create his music make him unique, and one of Scotland's most enthralling artists " - Folkradio.co.uk
  "emerged as one of today's outstanding talents" ~ Sunday Herald 
"An outstanding product of the Scottish jazz-folk scene who at one moment can blow a low whistle like Charlie Parker through 'Ko-Ko'  steaming his way and at the next knock out an air on a sax like a Highland traditionalist" ~ Jazzwise  
"it's the interplay between intellectual construction, fleeting modal improvisations and sheer emotional sensuality of the music that makes this (stereocanto) such a satisfying, and strikingly unified, piece of work" ~ Songlines