"

To call a musician's work 'unique' is a bold statement. However, if any musicians come close, then Fraser Fifield would be among them. The originality of his work, the breadth of his inspiration, scope of invention and variety of instruments he uses to create his music make him unique, and one of Scotland's most enthralling artists"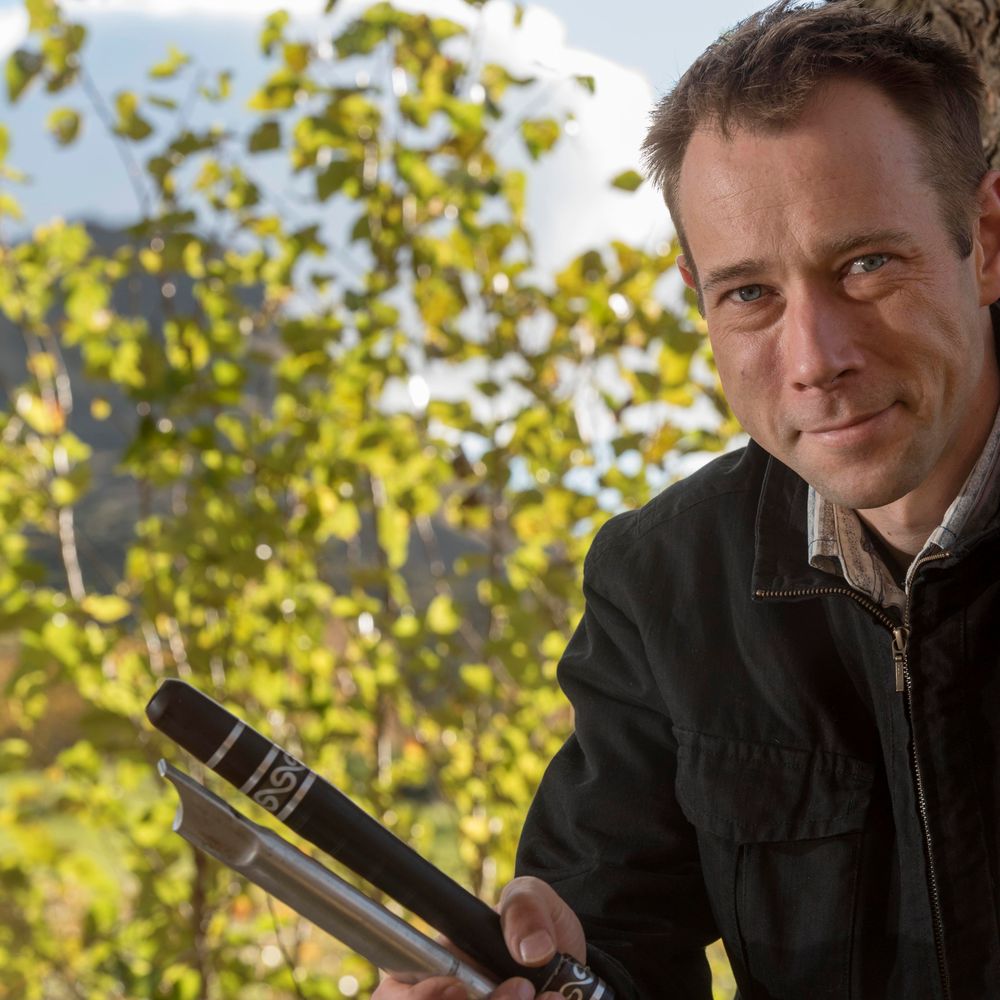 Fraser Fifield
Whistle, Bagpipes, Saxophone, Composer, Improviser
Fraser Fifield is one of the most creative musicians to have come through the Scottish tradition. Originally a piper, he has adapted the skills and phrasing he developed through his training in piping and transferred them onto saxophone, clarinet, low whistle and the Bulgarian end-blown flute, the kaval. His low whistle playing has drawn special praise for its fluidity and deep sense of expression and has led to work internationally with some of the world's leading musicians, including Indian percussion master, Zakir Hussain, and recordings with top players from Argentina, Bulgaria and the Netherlands as well as the UK. Fraser is an asset to any band and his work recently with the Scottish-Dutch-Indian group Lolanders rightly earned enthusiastic reviews at Celtic Connections and acclaim at Amsterdam's legendary venue, The Bimhuis.
Press Photos
Press Reviews
Songlines, December 2021
'Piobaireachd / Pipe Music' reviewed by Billy Rough
read in full: (https://www.songlines.co.uk/review/piobaireachd-pipe-music)
"...
While Scottish tradition is at the core of the album, elements of other cultures are explored too. 'Improvisation on Whistle', for example, reflects Fifield's experiences playing with Indian masters including Zakir Hussain. The entire album is a beautifully considered, and masterfully performed listen. There is a quiet seriousness here, which reflects the substance of the instrument's focus. Piobaireachd/Pipe Music is a pure and evocative examination of tradition, but one that also manages to stimulate and inspire".
Scottish Jazz Weekend 2020, by Patrick Hadfield for London Jazz News
https://londonjazznews.com/2020/03/02/scottish-jazz-weekend-in-edinburgh/
The weekend was brought to a close by a performance of the Fraser Fifield / Graeme Stephen duo, presented in association with Soundhouse at the Traverse Theatre. Sitting right on the boundary between jazz and folk music, this was a concert that made one question the validity of such genres: much of the material originated in the traditional Scottish music, but even when playing a reel, it seemed absolutely jazz. Fifield played a variety of whistles as well as a curved soprano saxophone and Border pipes. Stephen somehow gets as much variety of sound from his one guitar. Both musicians used loops and pedals to expand their range, creating a real depth to their music. Stephen and Fifield have been playing together for many years, and know each other's music and style intimately; together they produce some remarkable music.
Lolanders at Celtic Connections Festival 2019,  reviewed in The Herald by Keith Bruce
https://www.heraldscotland.com/opinion/17379775.keith-bruce-praise-chamber-music/
"...
Two days later, in the neighbouring Strathclyde Suite, came the debut of another new Scots-born chamber ensemble, this one combining musicians supported by Dutch Performing Arts with three locals: Hardeep Deerhe on tabla, jazz guitarist Graeme Stephen and the whistle and pipes of Fraser Fifield. There was groove-aplenty from the LoLanders too – no matter whose composition was on the music stand, these experience hands could mine a riff for all it was worth. This was the finest context for Fifield's talents I have heard, and communication between him and the viola and vocals of Oene Van Geel was the igniting spark, mirrored in Deerhe's combination with percussionist Udo Demandt, and Stephen's lick-trading with bassist Mark Haanstra".
Sample Tracks
0:00/5:54

0:00/3:46

0:00/2:06

0:00/3:58

0:00/4:48

0:00/4:48

0:00/3:40

0:00/5:45